Plain Woven Mesh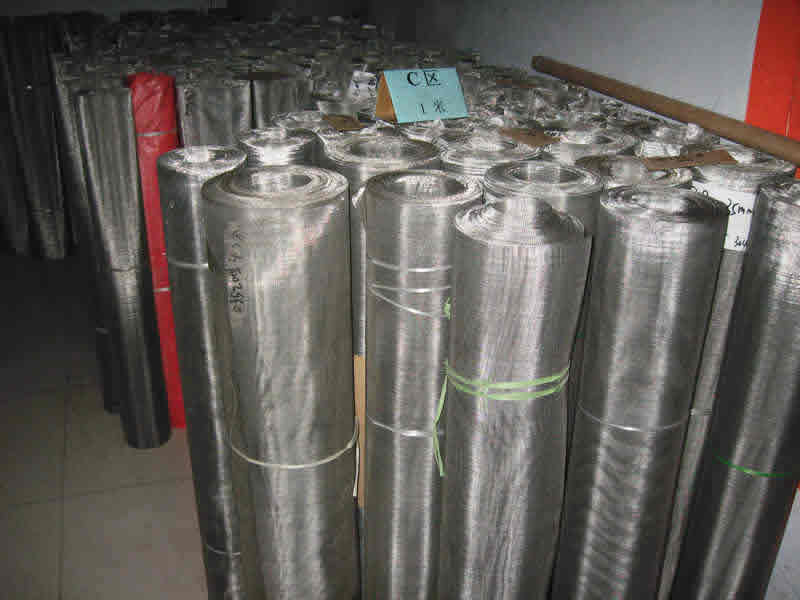 MWN's Plain Woven Mesh mainly use the material stainless steel wire, it has two types: plain weave and plain dutch weave.
Stainless steel is selected for their wear-resisting, heat-resisting, acid-resisting and corrosion resisting characteristics.

Many different grades of stainless are used in wire cloth.T304 is the most common, but others are used in specific applications to take advantage of each grade's unique properties. The wire mesh made of stainless steel is extensively used in mining , chemical industry, food industry and pharmaceutical industry.
Our Plain Woven Mesh products are generally made of stainless steel Type 302,304,304L,316,316L,321 and 430 etc. We produce them in all kinds of forms,such as the material, the wire diameter, the size of the mesh , width and length.
Plain Weave: Each weft wire passes over one and under one warp wire, and each warp wire passes over one and under one weft wire, every weft wire have and warp wire the same diameter.
Characteristics: square aperture ,high flow through , relative high open area, as result less pressure drop during filtration suitable for all kinds of filtration up to 63 micron.
Specification of the; Plain Weave Mesh
Mesh/Inch
Wire Diameter
Aperture
Open Area
Weight(LB) /
100 Square Foot
Inch
MM
Inch
MM
%
1x1
.080
2.03
.920
23.37
84.6
41.1
2X2
.063
1.60
.437
11.10
76.4
51.2
3X3
.054
1.37
.279
7.09
70.1
56.7
4X4
.063
1.60
.187
4.75
56.0
104.8
4X4
.047
1.19
.203
5.16
65.9
57.6
5X5
.041
1.04
.159
4.04
63.2
54.9
6X6
.035
.89
.132
3.35
62.7
48.1
8X8
.028
.71
.097
2.46
60.2
41.1
10X10
.025
.64
.075
1.91
56.3
41.2
10X10
.020
.51
.080
2.03
64.0
26.1
12X12
.023
.584
.060
1.52
51.8
42.2
12X12
.020
.508
.063
1.60
57.2
31.6
14X14
.023
.584
.048
1.22
45.2
49.8
14X14
.020
.508
.051
1.30
51.0
37.2
16X16
.018
.457
.0445
1.13
50.7
34.5
18X18
.017
.432
.0386
.98
48.3
34.8
20X20
.020
.508
.0300
.76
36.0
55.2
20X20
.016
.406
.0340
.86
46.2
34.4
24X24
.014
.356
.0277
.70
44.2
31.8
30X30
.013
.330
.0203
.52
37.1
34.8
30X30
.012
.305
.0213
.54
40.8
29.4
30X30
.009
.229
.0243
.62
53.1
16.1
35X35
.011
.279
.0176
.45
37.9
29.0
40X40
.010
.254
.0150
.38
36.0
27.6
50X50
.009
.229
.0110
.28
30.3
28.4
50X50
.008
.203
.0120
.31
36.0
22.1
60X60
.0075
.191
.0092
.23
30.5
23.7
60X60
.007
.178
.0097
.25
33.9
20.4
70X70
.0065
.165
.0078
.20
29.8
20.8
80X80
.0065
.165
.0060
.15
23.0
23.2
80X80
.0055
.140
.0070
.18
31.4
16.9
90X90
.005
.127
.0061
.16
30.1
15.8
100X100
.0045
.114
.0055
.14
30.3
14.2
100X100
.004
.102
.0060
.15
36.0
11.0
100X100
.0035
.089
.0065
.17
42.3
8.3
110X110
.0040
.1016
.0051
.1295
30.7
12.4
120X120
.0037
.0940
.0064
.1168
30.7
11.6
150X150
.0026
.0660
.0041
.1041
37.4
7.1
160X160
.0025
.0635
.0038
.0965
36.4
5.94
180X180
.0023
.0584
.0033
.0838
34.7
6.7
200X200
.0021
.0533
.0029
.0737
33.6
6.2
250X250
.0016
.0406
.0024
.0610
36.0
4.4
270X270
.0016
.0406
.0021
.0533
32.2
4.7
300X300
.0051
.0381
.0018
.0457
29.7
3.04
325X325
.0014
.0356
.0017
.0432
30.0
4.40
400X400
.0010
.0254
.0015
.370
36.0
3.3
500X500
.0010
.0254
.0010
.0254
25.0
3.8
635X635
.0008
.0203
.0008
.0203
25.0
2.63
| | |
| --- | --- |
| | Plain Dutch Weave: woven as a plain weave. Each warp wire and each weft wire passes over and under the next adjacent complementary wire, as in normal Plain Weave, except the warp wires are larger in diameter than the weft wires. This allows a greater mesh count in the weft direction. Characteristics:"zero"--aperture, more solid than square or rectangular mesh, relative high open area, suitable for all kinds of filtration. |
Gauge
Mesh
Wire Diameter (MM)
Reference values of particles passed
(micron)
40
10x64
0.55x0.42
260
50
12x75
0.45x0.35
220
80
24x110
0.35x0.25
160
100
25x140
0.28x0.20
100
120
30x150
0.25x0.18
80
140
35x180
0.20x0.16
70
160
40x200
0.18x0.13
60
180
45x220
0.16x0.12
56
200
50x250
0.15x0.11
50
240
60x300
0.14x0.09
45
260
65x320
0.13x0.08
36
280
70x400
0.125x0.07
34
300
80x700
0.11x0.039
32